Organic Raw Chocolate Peppermint Moisturizing Conditioner For Dry Hair
Regular price
Sale price
$18.50 USD
Unit price
per
Sale
Sold out
Secured and trusted checkout with:
This oh so sweet hair conditioner is infused with antioxidants, minerals and vitamins. Unrefined Organic Raw Cocoa and Organic Cocoa Butter is lovingly blended into this gourmet deep conditioning formula for maximum moisture. Growth stimulating peppermint essential oil is infused for scalp health and hair growth.

It helps maintain moisture and stops shedding.

Chocolate & Mint Deep Conditioner adds intense hydration while promoting a healthy scalp for stronger, healthier, smoother, and more manageable hair. This conditioner is for drier hair types.


Organic Raw Cocoa Powder:

Cocoa powder is exceptionally nourishing. It is filled with essential vitamins and minerals that nourish not only the body, but also the hair and scalp. These include magnesium and zinc, which help to fight hair loss, and calcium, which promotes healthy hair growth.
Cocoa powder also contains protein and an extremely high level of antioxidants, which also help the scalp to grow longer, stronger and healthier hair. Using cocoa powder in a hair conditioner or shampoo not only adds perfect dark tones to hair, but adds moisture, shine and volume to hair while promoting growth.

Peppermint Oil:

Promotes hair growth, balances oil, can increase hair thickness, calms inflammation. Studies show that peppermint oil is more effective at stimulating hair growth than minoxidil. Peppermint essential oil stimulates blood circulation to the skin, which may help with increasing dermal thickness, follicle number, and follicle depth. Peppermint has a pleasant, cooling sensation when applied topically, and that sensation can help to reduce skin inflammation.


Directions: Apply from root to ends on clean damp hair. Divide hair into 4 parts. Add conditioner to hair and comb through with a wide tooth comb or with your fingers. Massage into scalp. Apply plastic cap for 30 minutes. Rinse with cool water. Heat can be applied by sitting under a dryer. Can be left on for maximum 2 hours.

This hair conditioner works well for all hair types and is safe for children as well.

Smells delightful like a thin mint cookie.

Ingredients: Distilled Water infused with Peppermint Leaves, Organic Raw Cocoa, Organic Cocoa Butter,Organic Peppermint Essential Oil, Plant Derived Emulsifying Wax, BTSM-25, Geogard 221 (plant derived eco certified preservative).

Size 8 oz.
 **Due to the nature of our products, organic, vegan and sustainable, no artificial thickeners, silicones or parabens, some separation may occur. A gentle stir will blend the ingredients.**
**Please be advised!! Due to supply shortages, this conditioner may come in a bottle or a jar! Same ingredients, different container!!***
Return & Refund Policy

I'm a Return and Refund policy. I'm a great place to let your customers know what to do in case they are dissatisfied with their purchase. Having a straightforward refund or exchange policy is a great way to build trust and reassure your customers that they can buy with confidence.
Shipping Info

I'm a shipping policy. I'm a great place to add more information about your shipping methods, packaging and cost. Providing straightforward information about your shipping policy is a great way to build trust and reassure your customers that they can buy from you with confidence.
Share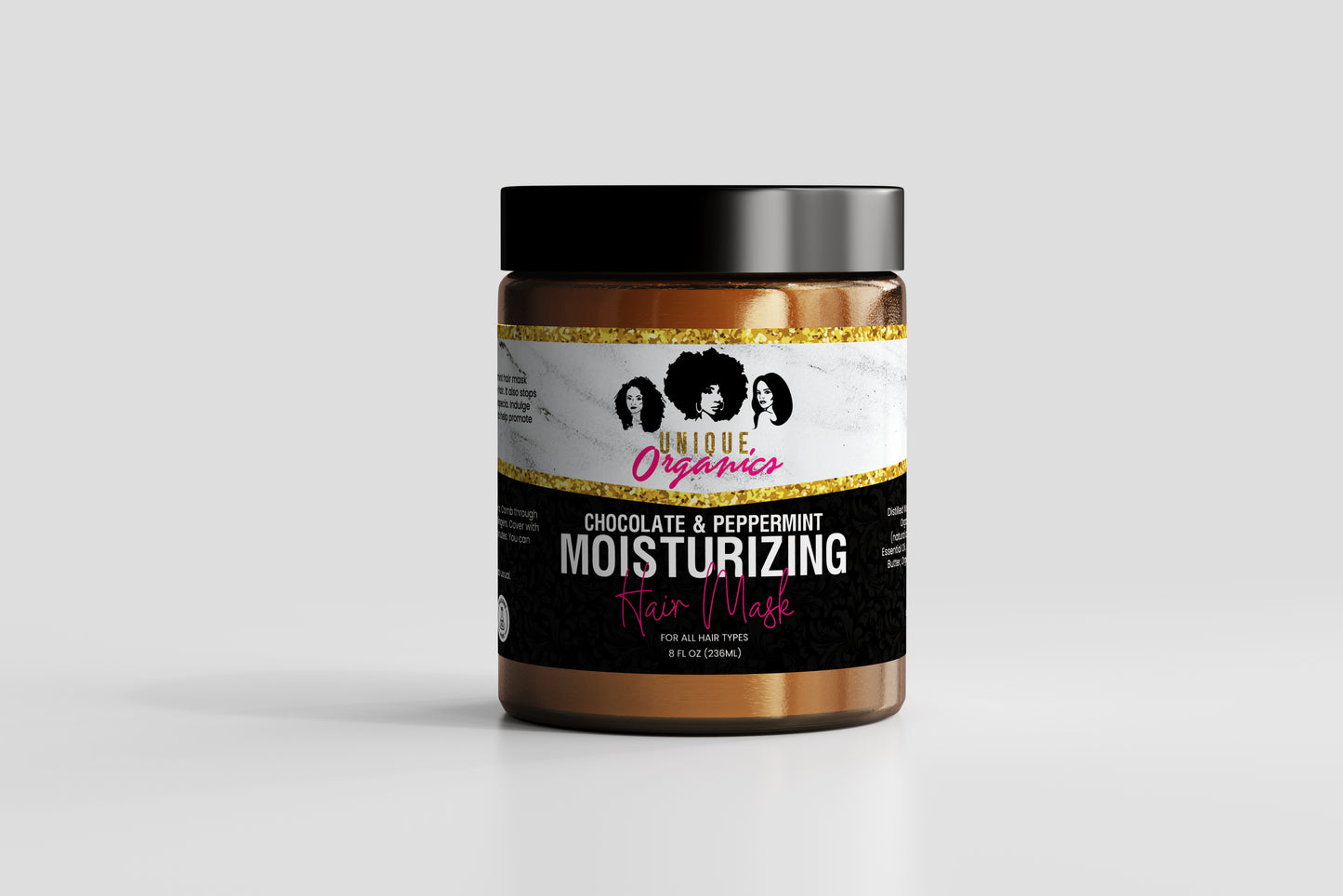 Less Hair Fall
I've been using the Chocolate Shampoo for a few weeks now, and I'm already seeing an improvement in the overall health of my hair. It feels stronger, and I've noticed less hair fall, which is a big relief. My strands feel smoother, softer, and incredibly nourished after every wash. And it also smells amazing. Thank you for creating this product.
Great!
Love the fact the ingredients are natural, hair felt soft after rinsing out.
Chocolate Peppermint Conditioner
This conditioner really helped my hair. It added moisture and stopped my shedding. It was a little thick which is to be expected because it's sort of a mask. So that is okay with me. I love the smell. I can tell it's made with great ingredients. I never knew chocolate would help with my hair problems. I will order this again.
Fantastic Product
I first fell in love with the smell of this product at a pop up market Monique attended. She gave me a sample to try which I was grateful for. I love this conditioner. My hair is so soft. It's no longer brittle and dry. This product is everything. Keep making it cause it's working for me.