Shikakai and Rhassoul Clay Mask Moisturizing Deep Conditioner/Exfoliating Clay/ Cleanses Scalp
Regular price
Sale price
$20.00 USD
Unit price
per
Sale
Sold out
Secured and trusted checkout with:
Immerse your tresses in this deep, rich and moisturizing blend of organic Ayurvedic herbs that will condition your hair, deliver moisture, help to stop shedding and help your hair to become healthy and strong. 

This conditioner repairs dry damaged hair and will greatly reduce shedding and thinning with continued use. 


This is an all natural plant based conditioner that is enriched with Shikakai which is an amazing Detangler and Morrocan Rhassoul Clay which remineralizes, softens and helps with detangling  and reducing frizz. 


Ingredients: 
Distilled Water, Organic Shikakai Powder, Brahmi, Moroccan Rhassoul Clay, Haritaki Powder, Shea Butter, Sweet Almond Oil, Organic Vanilla Bean Oil, Vegan Sunflower Wax, Plant Derived Myrica Fruit Wax, BTMS all natural vegetable conditioner, Geogard 221 (eco-certified preservative).  


Directions: 
Apply ample amount of conditioner to your hair. Start from the ends and work your way to the roots. Leave in for 30 minutes to an hour and rinse. You can also place a shower cap over your hair and sit under a dryer for 30 minutes and rinse. Follow up with your hair oil or cream moisturizer.
Return & Refund Policy

I'm a Return and Refund policy. I'm a great place to let your customers know what to do in case they are dissatisfied with their purchase. Having a straightforward refund or exchange policy is a great way to build trust and reassure your customers that they can buy with confidence.
Shipping Info

I'm a shipping policy. I'm a great place to add more information about your shipping methods, packaging and cost. Providing straightforward information about your shipping policy is a great way to build trust and reassure your customers that they can buy from you with confidence.
Share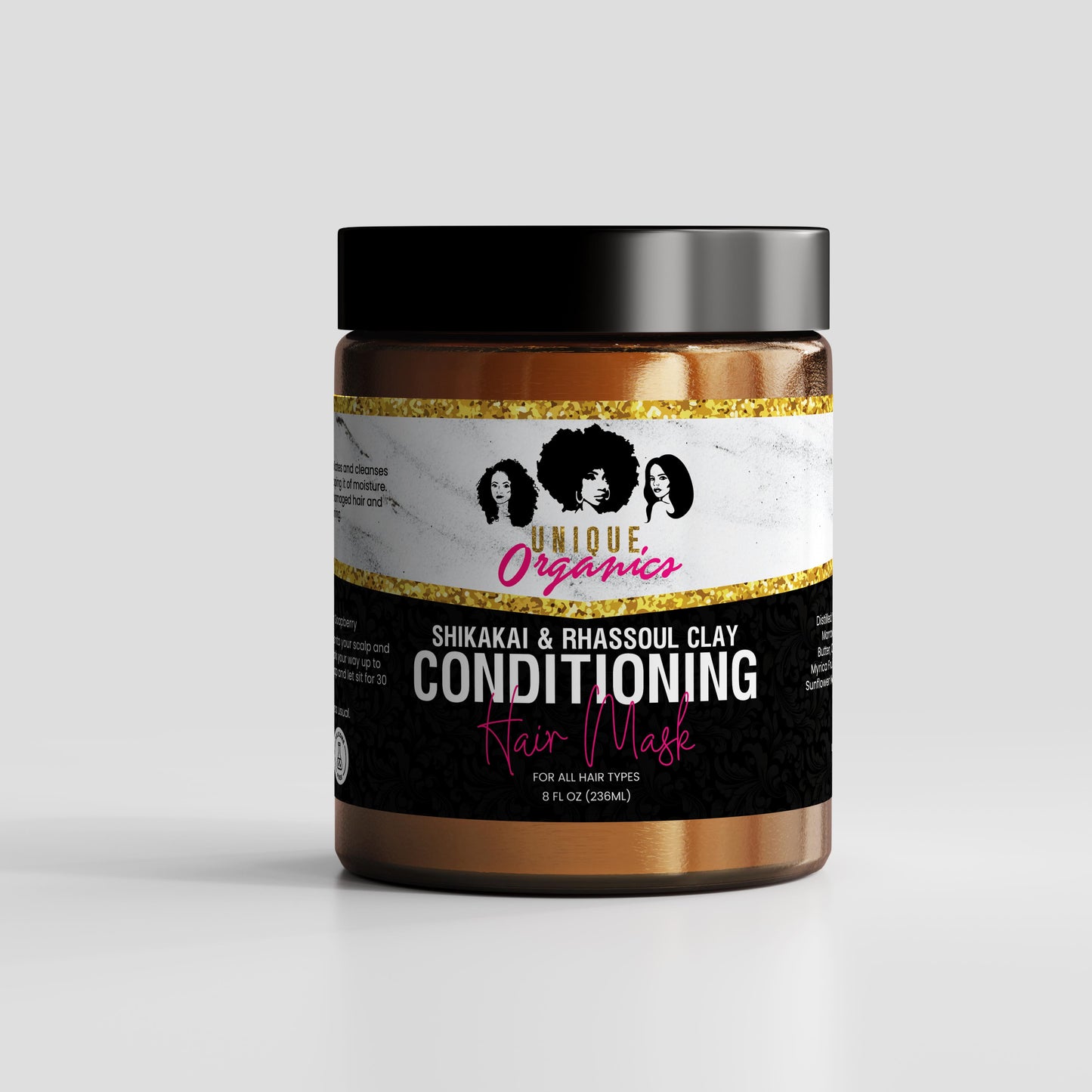 OMG!
OMG! This conditioning mask is awesome. It made my hair so soft once I rinsed it out after conditioning it with a heating cap for 30 minutes… and the combination of the shampoo, the mask and then using the leave-in conditioner, made my hair soft and my scalp feel really good. I also added the alopecia stimulating butter, and was very pleased with how my hair and scalp felt after using a combination of these 4 items together, not to mention how good my hair smelled all day long after using them. This was a hit for me!! I will definitely purchase them again!
I'll be ordering more of this product.
I absolutely love all your products. They have helped grow back hair in my bald spots so quickly and provided so much moisture back into my hair.
Excellent value for money. I love using this product.
1. Seller- Monique was really great, I explained to her I was new to this and my hair concerns as well as my husbands. She responded in a timely manner and I especially appreciated that she didn't try to "sell" me everything. She told me what to try out and gave me two options for my husband as well which was helpful. 2.shipping- The product came early & was packed better than they pack computer parts. I was really ordering this because I have lost many products to poor packaging /handling. It was packaged and sealed real well, & super bubble wrapped, the mail carriers could've played football with it & it would've been fine. she clearly cares about her products. 3. Product- I've only used it a couple of times so far with my twists in and was pleasantly surprised. I'm hitting the max for this review so- love it so far!!