Organic Fenugreek, Moringa and Clove Alopecia Hair Growth Butter
Regular price
Sale price
$18.00 USD
Unit price
per
Sale
Sold out
Secured and trusted checkout with:
ATTN: DUE TO OVERWHELMING DEMAND FOR THIS PRODUCT, AN EXTRA DAY WILL BE ADDED TO PROCESS AND SHIPPING!
If you're suffering from hair loss as well as dry hair, dandruff, flaky scalp or psoriasis, this hair growth butter is an excellent choice to pair with our Alopecia Hair Growth Oil or our Curry Up and Grow Hair Oil. 
Infused with the herbs Fenugreek, Moringa and Clove,  these powerful herbs are the star players  in this butter which are an herbal blend that helps to treat hair loss.

 Our alopecia hair oil which has over 27 ingredients is used as an extra growth stimulator.
It works great for dry scalp, dandruff, itchy scalp and helps to promote hair growth on those stubborn areas. 
Fenugreek has been shown to slow down the ability of DHT(hormone that causes baldness) to attach to your hair follicles. Studies has also shown that an herbal oil mixed with fenugreek can increase hair thickness and growth. 
Fenugreek powder is a rich source of vitamins A, K & C, folic acid, potassium, calcium, iron, and protein, which are essential nutrients for hair growth. Additionally, fenugreek powder promotes a healthy scalp environment which contributes to hair growth
Fenugreek: Fights dandruff, Controls scalp inflammation, Revives damaged hair, Prevents hair loss. 
Moringa :  Moringa helps moisturize your hair and helps with dandruff. Moringa contains Zinc and zinc stimulates hair growth. Moringa strengthens your hair and also prevents split ends. Moringa reduces alopecia. 
Zinc is probably the biggest player in this hair game. Low levels of zinc been linked to poor hair growth, and even hair loss. Healthy levels of zinc also help damaged hair follicles recover more quickly. Zinc is a key contributor to healthy hair follicles, which are the root of every single hair on your head.
Moringa activates the dormant hair follicles thereby enhancing hair growth on the bald areas. It is a rich source of Biotin.
Clove: 
Clove oil contains eugenol, which promotes hair growth when applied to the scalp.  This compound contains antimicrobial and anti-inflammatory properties that can be beneficial for your scalp.
Eugenol also has certain anti-androgenic properties. Thus, it can slow down the effects of androgens on your hair follicles, boosting hair growth in people suffering from androgenic alopecia (male-pattern baldness). Eugenol also helps promote blood flow to the scalp, increasing nutrient supply.
Clove also prevents dandruff, reduces split ends.
Clove is a natural conditioner and helps lock in moisture in the hair
Ingredients: Organic Moringa, Organic Fenugreek, Organic Clove, Organic Ginger powders. Unrefined Organic Shea Butter, Organic Mango Butter, Organic Sal Seed Butter, 40 Ingredients Alopecia Hair Growth Oil, Organic Aloe Vera, Vitamin E, Organic Hemp Seed Oil, Plant Derived Conditioning Emulsifier (BTMS 25), Organic Arrowroot Powder, Organic Peppermint Oil, Lavender Oil, Tea Tree Oil, Rosemary, Bergamot and Lemongrass Essential Oils. 
Directions:  Always apply hair butters and oils to damp scalp and hair by using a water based conditioner. (leave in spray or cream). Or you can apply it to dry hair as well. It's up to you. 
Apply to your scalp and hair and massage in for a few minutes.  Style as usual. 
For twist and braid outs add to your hair before twisting. Can be applied as an alternative to grease between your braids and locs. 
Works For All Hair Types
You don't have to have alopecia to use this butter.
It's a great growth stimulator for all hair textures. Safe for children. 
Return & Refund Policy

I'm a Return and Refund policy. I'm a great place to let your customers know what to do in case they are dissatisfied with their purchase. Having a straightforward refund or exchange policy is a great way to build trust and reassure your customers that they can buy with confidence.
Shipping Info

I'm a shipping policy. I'm a great place to add more information about your shipping methods, packaging and cost. Providing straightforward information about your shipping policy is a great way to build trust and reassure your customers that they can buy from you with confidence.
Share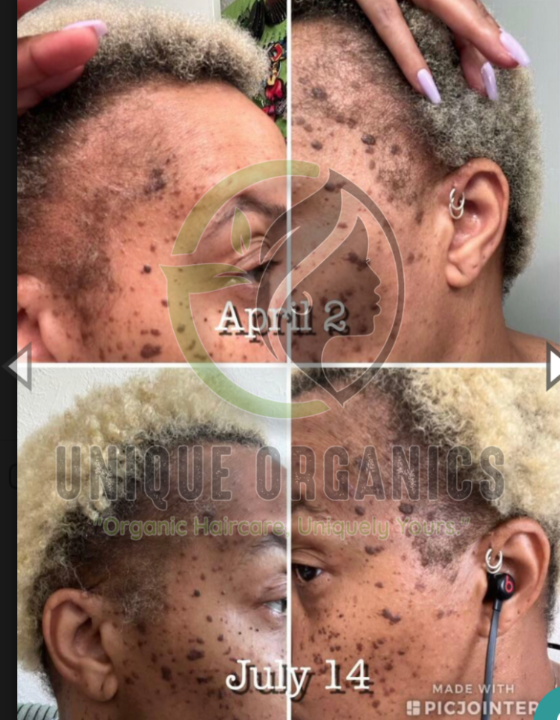 Alopecia
I need a product to help my hair grow that doesn't 😩 smell like he'll and keep me up all night .a product that actually work with people who really lost there hair,if you can put your hair in a ponytail you don't have hair loss you want more hair there's a difference when you have to keep you hair covered at all times that's hairloss.
I had to get use to a scent I wasn't familiar with, however I didn't want that to be the reason. I am absolutely pleased with this new hair product, wanted to use for a few days to see how my hair and this product reaction was. If it was gonna dry out my hair or keep it moist....I love how it's creamy yet oil's of natural ingredients!! Thank you Monique for thinking of your sista's❤️
bought as a gift the content is thick as butter, item match description, too soon to give a report, will monitor for progress. The seller was kind enough to answer concerning questions. Thank you.
The seller takes pride in her products. Each item was wrapped and secured professionally with care. That in itself speaks volumes about how the person takes care of customers. 😊